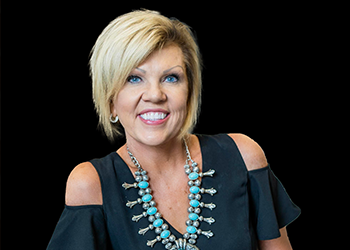 Social Media Strategist
Brief info
Kelly brings a business savvy perspective and a smile to our team and she is also a graduate of Oral Roberts University. With extensive experience in both the Texas and Oklahoma tourism and chamber of commerce industries, she has received several Red Bud Awards in the past from the Oklahoma Travel Industry Association for marketing excellence.
It may surprise you to know that Kelly is also a popular motivational speaker and community consultant. She is known for her communication creativity that captures a crowd from the get-go, gets it said in the middle, and ties it all up with a bow at the close. With a hashtag of #TheSmilesAreAlwaysFree and an attitude of gratitude, Kelly brings experiential wisdom and inspirational insight to both the speaking platform as well as the boardroom table.
Kelly joined the Slick Engine team in 2022 as our Social Media Strategist. With an impressive analytic track record of nearly 15M annual impressions across one tourism destination's social media platforms in 2021, she understands what it takes to reach targeted demographics with a message that resonates.
"My attitude is my calling card," she said with a smile when asked about her motto. She went on, "My mother used to say that attitudes were more contagious than the common cold, so make yours worth catching."
With a love for life, family, and American values, when Kelly isn't working, you'll most likely find her having fun doing things like feeding cattle, hunting, fishing, or just relaxing out in rural Osage County, Oklahoma with her husband, John.