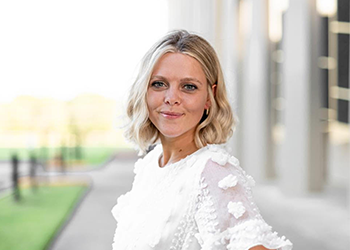 Director of Client Services
Brief info
Holli Anne got her start in digital marketing right after graduating from Oral Roberts University with a degree in Public Relations and Advertising. In her three years there she gained numerous skills through internships with Focus on the Family, ORU Alumni & Development, Slick Engine, and her various roles on the 2018 National Student Advertising Competition team. For the past two years, she has worked for a local digital fulfillment agency and Slick Engine as a media specialist.
During this time Holli Anne developed a passion for all things social, traditional, and digital media. She has a love for interpreting data and strategizing how to always be making campaigns better. Recently, she has joined the Slick Engine team full-time to further her career in digital marketing. When she is not building social calendars, analyzing data, or talking to reps, you can find her somewhere outside with her dog Luna and her husband Kaleb. Other passions include fitness, cooking, and more recently hosting game nights!
We sat down with Holli Anne for a fun interview and asked her some questions. Here are a few of our favorites:
Q: What is your favorite part about your job?
A: I love getting to know our clients and talking to them on a daily basis. The more I get to know them, the more excited and passionate it makes me about their campaigns and what we are doing.
Q: How would your friends describe you?
A: I think they would say I am determined and fun-loving. I am always looking to learn something and looking for ways to help make a difference in people's lives. I think they would also say I am a loyal and caring friend!
Q: You mentioned you like game nights, what is your favorite game to play?
A: Code Names. It is all strategy, makes you think hard, and boosts creativity! My husband and our friends are all extremely competitive so you can say things get pretty intense.
Q: Who is your favorite coworker?
A: Even though April and Patty are great to work with and make work fun, I would have to say my dog, Luna. She contributes a lot to this company, in the form of moral support!